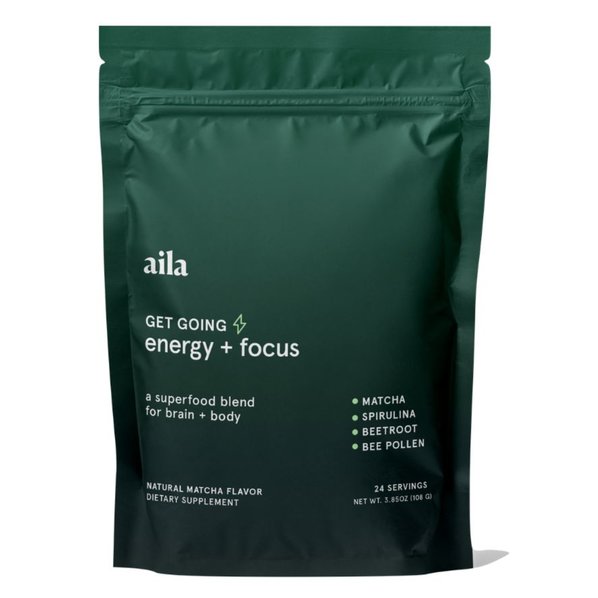 Energy + Focus
Plant-Based Pre-Workout Powder
$39 $35 - only $1.45 per serving
🌱 100% plant-based, no artificial ingredients
🍵 90mg of organic caffeine + 10 calories
🏃‍♀️ Enhances athletic performance
⚡️ Boosts energy + focus without the crash
(Ships from the USA - Limited Time Offer)
GET $5 OFF
Your new pre-workout routine
We combined organic caffeine, superfoods and essential B vitamins
so you can support your fitness routine naturally.
beetroot
supports exercise stamina, recovery + promotes heart health
90 mg of organic caffeine
regulates mood, supports focus + builds a healthy metabolism
vitamins B6 & B12
improves brain function + boosts energy levels
matcha
boosts energy naturally, reduces stress + improves brain function
GET $5 OFF
"During quarantine, I quit all energy drinks since I started drinking them 15 years ago for athletic performance. Energy + Focus is surprisingly powerful for only 90 mg of caffeine, and I never crash or feel jittery. I get more even, sustained energy than I ever did from energy drinks, & my sleep is not affected - pretty much a god send! 10/10 recommend and will continue to buy."
- Emily B, Certified Personal Trainer
⭐️⭐️⭐️⭐️⭐️
"I have been using aila for over a year now and I can't enough about how great it has been for me. I've committed to working out more, usually in the morning. Aila is the best thing I've found that helps me sustain energy without a ton of caffeine"
Stephanie A., Verified Customer
⭐️⭐️⭐️⭐️⭐️
"I noticed a tangible difference in my morning workout with aila. I definitely felt an improvement in performance and also felt focused through the rest of the day!"
Krista K., Registered Dietitian
⭐️⭐️⭐️⭐️⭐️
"Aila has been a game changer for me as a pre-workout. I struggled to find something that gave me enough energy to power through tough workouts without the jitters. I love that every ingredient is something that I recognize and can pronounce! I don't know where I'd be without my aila."
Mary A., Verified Customer
Traditional pre-workout supplements are full of artificial ingredients, high in synthetic caffeine, and aren't safe for long term use.
Here's how we stack up:
Balanced energy, no jitters or crash
100% plant-based - no artificial ingredients or flavors
Added nutrients from whole foods
Balanced energy, no jitters or crash
No artificial flavors or ingredients
Added nutrients from whole foods
48 servings - $1.43/Serving
30 Day Money Back Guarantee
Buy Now
24 Servings - $1.88/Serving
30 Day Money Back Guarantee
Buy Now
Easy, Quick, and Delicious
Our natural pre-workout mix is prepared in under 30 seconds, whether you're adding it to your water bottle on-the go, or blending with a smoothie.
Shake up in a cold water bottle
We offer a 30-day, full money back guarantee. If you're not satisfied, just email us and we'll process a refund. No questions asked.
Frequently Asked Questions
How many calories are in aila?
How long before my workout should I drink aila?
Is aila 3rd party tested?
BUY NOW
These statements have not been evaluated by the Food and Drug Administration. Our products are not intended to diagnose, treat, cure, or prevent any disease.