FREE US SHIPPING ON ORDERS $30+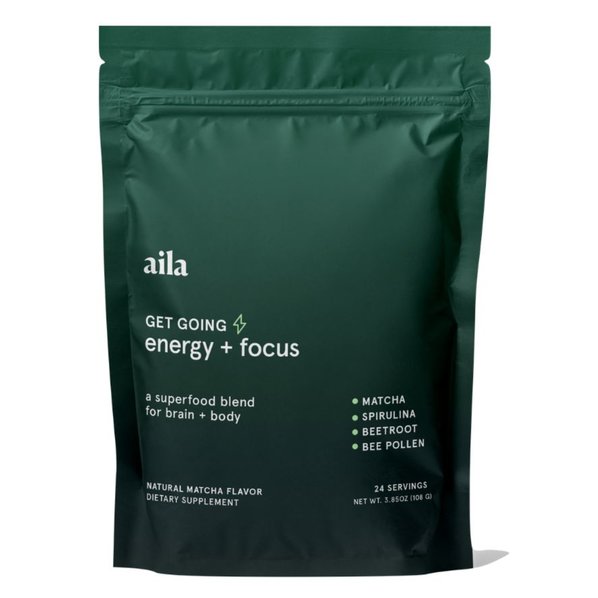 Energy + Focus Blend
$39 $35 - only $1.45 per serving
Feel your best with plant-based morning energy.
⚡️All-day energy + focus without a crash or need for another cup
😌 L-theanine from matcha to reduce stress
🍵 90mg of organic caffeine + 100% plant-based
🌱 A tasty + nutritious energy boost
($5 off - Limited Time Offer!)
BUY NOW
Your new energizing routine
We combined nourishing superfoods with functional ingredients so you can energize without the crash, or need for a second cup.
90 mg of organic caffeine
regulates mood, supports focus + builds a healthy metabolism
matcha
boosts energy naturally, reduces stress + improves brain function
vitamins B6 & B12
improves brain function + boosts energy levels
beetroot
supports exercise stamina, recovery + promotes heart health
BUY NOW
"I finally found the perfect product to boost my morning routine. Meet aila, a superfood matcha blend that is as good for you as it is tasty. I mix it up with oat milk to replace my lattes!"
⭐️⭐️⭐️⭐️⭐️
"I have been using Aila for over a year now and I can't enough about how great it has been for me. I've committed to working out more, usually in the morning. Aila is the best thing I've found that helps me sustain energy without a ton of caffeine"
⭐️⭐️⭐️⭐️⭐️
"I noticed a tangible difference in my morning workout with Aila. I definitely felt an improvement in performance and also felt focused through the rest of the day!"
Krista K., Registered Dietitian
⭐️⭐️⭐️⭐️⭐️
"This blend has become part of my daily ritual. Not only have I stopped drinking coffee, but this has become sacred to my mornings. I ordered enough to make sure I wouldn't run out on vacation!"
Coffee and energy drinks can cause anxiety and a crash, as well as negatively affect your sleep. Plus, they always leave you coming back for more (and not in a good way).
Here's how we stack up:
Nutrition from whole foods
Nutrition from whole foods
3 packets of Energy + Focus (Matcha)
3 packets of Energy + Immune (Peach)
Buy Now
24 Servings $1.63/Serving
30 day Money back Guarantee
Buy Now
24 Servings $1.88/Serving
30 day Money back Guarantee
Buy Now
Easy, Quick, and Delicious
Coffee is expensive + takes too long to brew. Our mix is drinkable in under 30 seconds, whether you're adding it to your water bottle, frothing it into a latte with milk, or adding to your smoothie
Shake up in a cold water bottle
We offer a 30-day, full money back guarantee. If you're not satisfied, just email us and we'll process a refund. No questions asked.
Frequently Asked Questions
How many calories are in aila?
How can I place an order?
How much caffeine is in your blends?
How long before a workout should I drink this?
Is Aila regulated by the FDA?
BUY NOW
These statements have not been evaluated by the Food and Drug Administration. Our products are not intended to diagnose, treat, cure, or prevent any disease.